Keith J. Cunningham is an entrepreneur, international speaker and published author of two successful business books. He teaches lifechanging business skills to thousands of top executives, small business owners and entrepreneurs across the world. He is known for his business mastery. His forty years as a business owner, consultant and adviser has helped turn thousands of fledgling businesses into highly profitable cash cows.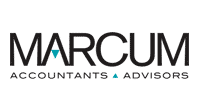 Marcum LLP
Established in 1951, Marcum LLP is one of the largest independent public accounting and advisory services firms in the United States. Ranked #15 nationally, Marcum LLP offers resources of 1,300 professionals – including over 160 partners in 23 offices throughout the U.S., Grand Cayman and China. Headquartered in New York City, the firm's presence runs deep, with fullservice offices strategically located in major business markets.

SIDCOR
SiDCOR is an Australian-based, award-winning accounting firm with a clear mission -- to change business owner's lives by helping them achieve their business, financial and personal goals, and helping them grow into their potential. In 2014, SiDCOR was ranked by BRW Magazine as the 3rd "Best Places to Work" in Australia and in the top 100 Australian accountancy firms. SiDCOR's extensive client base covers Australia and beyond with our global reach. SiDCOR helps business owners maximize tax savings, increase profits, improve cash flow, and promote business growth while ensuring asset protection.